HEY THERE!
I'm Hadassa.
I was born and raised with the colorful and diverse flavor that is the spirit of San Francisco. My parents dedicated themselves to the community, opening our home and joyfully greeting all who walked in. As a child, my dream was to replicate the deep warmth and love that they displayed and to create a welcoming space of my own when I'd grow up.
As a young adult, my desire to form an intimate relationship with Judaism led me to adventure to Safed and Jerusalem. There I discovered a profound appreciation for Chassidut (applied Jewish mysticism), its practical tools for everyday living, and the power of creative expression.
I'm passionate about being a mom, finding the joys in the oys, and living purposefully. In my spare time you can find me chatting with a friend, writing spoken word, jamming on my guitar or chasing (hopelessly) after an adorable, mischievous little baby who is working intently on our home's demolition project…
There is nothing like a good heart-to-heart schmooze and I look forward to sharing a cup of coffee with you soon!
---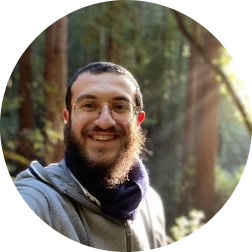 I'm Moshe.
I'm a native of Montreal, where ice-skating skills are key to survival. After studiously learning in school, I'd spend time with my buddies, energetically occupied with all things snow: tubing, sledding, igloos, and of course, snowball fights.
When I was 10 years old, I joined my father and uncle on their visits to assisted-living homes to share the joy of Jewish traditions. From them on, the holidays would find me singing and celebrating with the elderly residents.
As my yeshiva studies intensified, taking me abroad, I was dispatched by the Aleph Institute, a Jewish humanitarian organization, to visit inmates on Chanukah and Purim; truthfully, these beautiful souls uplifted me more than I uplifted them. For the summer breaks, I would return home to direct the local Jewish day camp.
These meaningful experiences fostered within me a deep desire to become a Rabbi and continue enriching the lives of others. I was Rabbinically ordained in 2018 and haven't looked back since :)I enjoy a good schmooze, anything related to history, philosophy, or Jewish mysticism, hiking up scenic trails, and I may have a Rabbi joke or two up my sleeve...
Always on the lookout for new study partners, I'd be delighted to explore a Jewish text with you soon!
---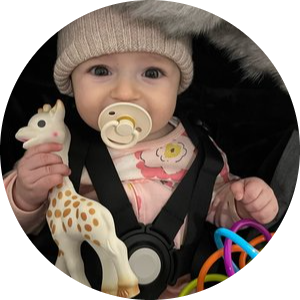 And I'm Sheina Chava.
The world is an exciting place to be, and I love discovering, exploring, touching, feeling, pulling, and tasting everything - including your hair.
I giggle when you lift me in the air, I love a game of peek-a-boo, and if you listen, I have many thoughtful insights to share.
Looking forward to sharing my toys and playing with you soon!